'Change for Health':
The backstory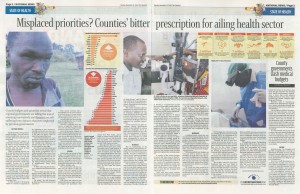 Most journalists in Kenya are not taking advantage of the Internet to tell dynamic and interactive stories. But Internews in Kenya data journalism fellow Paul Wafula, who is an investigative reporter with The Standard newspaper, has broken the mold with his investigative story: Change for Health.
In the following multimedia piece Wafula explains how he used audio slides, interactive maps, infographics and a news app to tell the story of how much your county government is spending on developing your healthcare, the challenges and the misplaced priorities they face.
The app was developed by Internews data journalism fellow Dan Cheseret who is a developer. Apart from the online version, the story will be published as a five-part series in The Standard newspaper from today until Friday.
The News app, interactive maps and audio slides:
http://www.standardmedia.co.ke/health…
Alarm as 30 counties slash health budgets (12,November 2013) http://www.standardmedia.co.ke/health…
Misplaced priorities? Counties' bitter prescription for ailing health sector (12, November 2013) http://www.standardmedia.co.ke/health…
New report reveals top and bottom counties in health spending (13, November 2013) http://www.standardmedia.co.ke/health…
False start as devolved units in once marginalised region fail balance test (13, November 2013) http://www.standardmedia.co.ke/health…
Kilifi County ranks low on health spending as disease ravages region (14, November 2013) http://www.standardmedia.co.ke/health…