A story by Internews trainees Violet Otindo and Malachi Motano about the practice of recycling condoms in Isiolo makes international headlines.
Condom use is known to be one of the most effective methods of preventing HIV infection. Recently, an Internews-supported story exposed a dangerous shortage of condoms in Kenya's Isiolo District, where young men have been washing and reusing condoms. This spurred a national debate on the shortage of condoms in the country.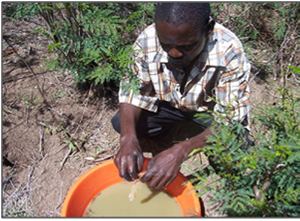 An Isiolo man washing condoms for re-use.
The story was a result of an Internews travel grant to Isiolo awarded to Violet Otindo of K24, and Malachi Motano, a freelance print journalist. A short news item was aired on K24 on 25 February 2011 with a longer, twenty minute version featuring interviews with authorities and the youth broadcast over the following two days. Motano's story was a full page spread in the Sunday Express the same week.
The men who were featured said the price of condoms meant they could not afford to use them just once. Other
men in the village said when they had no access to condoms, instead they used polythene bags. Violet and Motano interviewed experts who confirmed that washing and re-using condoms would weaken the latex, increasing the chances of breakage and in turn the risk of unwanted pregnancy and sexually transmitted infections, including HIV. Washing condoms in dirty water may also carry additional disease risk.
The story created a news sensation. It was picked up by many other media outlets, including most Kenyan media, the BBC, and Al Jazeera. The Youtube posting of the story with comments also went "viral" on the internet – resulting in thousands of views. In what can be seen as a policy response to the issue highlighted, the Kenyan government subsequently acknowledged that there was a shortage of condoms in the country due to high demand and procurement bottlenecks, which had forced it to ask for 45 million emergency condoms from the US President's Emergency Plan for AIDS Relief (PEPFAR).
The shortage had seen an average of 8 million Kenyans lose free access to condoms.
According to Public Health Director, Shahnaaz Sharif, "The demand was eight million per month; it went to 12 million and currently stands at around 20 million. That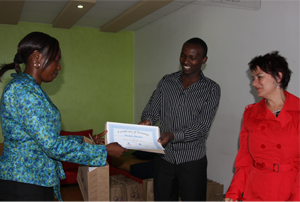 Internews granted an award to Violet in recognition of the high impact the story has had.
gives you the number of encounters people would have."
Media images of men in Northern Kenya washing condoms for re-use have also underscored the need to improve HIV communication and close gaps in the supply of condoms in rural areas.
In direct response to the story, the Kenyan Red Cross distributed condoms to the Isiolo region a couple of days after the story was broadcast. However, shortages persisted in other regions. The government has since procured 35 million condoms for distribution across the country.Watch the story on Youtube
USAID's emergency condom shipment has arrived in Kenya and will be available for distribution beginning June 6, 2011. The National AIDS and STI Control Programme (NASCOP) will be releasing a statement to all partners regarding the distribution of these and other condoms, shortly. For more information please contact Emma Mwamburi ([email protected]).
About Internews Travel Grants and Mentored Travel Grants
Internews recognizes that in most countries, media presence tends to gravitate towards the capital and/or large centers. Precisely the most underserved populations and marginalized people would be voiceless if a deliberate intervention is not made. In a country like Kenya, those away from the capital need to have their voices amplified in order to ensure their fellow citizens and policy makers are aware of their needs and concerns. In remote areas, stigma is rife and service provision more strained than in the cities.
Internews helps to ensure that stories from outlying areas are placed on the national agenda, by supporting journalists' travel and other expenses to remote villages and hard to reach locations in the form of a travel grant. Where stories are complex or we believe journalists can benefit from on the job mentoring, Internews arranges a "mentored" travel grant, meaning the trainee team is supported by an Internews trainer, who assists journalists as the story unfold in the field.