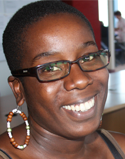 Rose Odengo
Freelance online journalist


"I love telling stories", says Rose Odengo a freelance online journalist.

Odengo got tired of pitching stories to editors and complaining that they never saw the light of day. She literally quit her job as a copy writer at Easy FM to venture into freelancing in order to pursue stories that she says needed to be told.

Her first assignment as a freelancer was to cover the night life of strip clubs in Nairobi. This meant that Odengo would spend her nights in the strip club watching gyrating women entertain men.

She has since moved on to stories that feed her soul, including noteworthy investigative pieces that are being published in newspapers locally and all over the world.
http://globalpressinstitute.org/global-news/africa/kenya/strip-clubs-outpace-laws-kenya
Mtandao wa Internews-Ushahidi