Freedom in Speech ... it is a right

You can now read news about the gay community in Kenya, thanks to a pioneer Website run by Gay Kenya Trust and Artists for Recognition and Acceptance (AFRA) with the support of Internews in Kenya.
The site, freedominspeech.org, was launched by Jeri Curry, Internews Senior Vice President Global Communications and Outreach after a week-long training of 14 members of the lesbian, gay and coalition of Kenya on news gathering, news writing and online journalism tailored to equip the participants to tell their own captivating stories about human rights and sexuality in Kenya.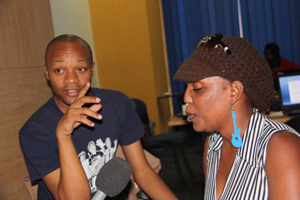 Denis Nzioka and Kate Kamunde being interviewed by BBC about the new website
Like the majority of Kenyans, the country's mainstream media exhibit homophobic tendencies, says Denis Nzioka, of Gay Kenya Trust and one of the participating journalists "It is impossible to read, listen or view anything positive about the gay community in the Kenyan media. All they are interested in are stories that stigmatise us."
When Internews Kenya organised a media roundtable on HIV and the gay community in 2010, some Journalists produced some stories with a fair amount of objectivity, but according to David Kuria, the Director of Gay and Lesbian Coalition of Kenya, many stories still revealed the biases that journalists have towards gay and lesbian people in the country. With the launch of freedominspeech, Kuria says that "those who want to know about us can simply visit the website where they can read stories that are not biased".
The site will provide a space for gay and lesbian people to tell their stories on human rights Speaking at the beginning of the week-long course, Ernest Waititu the Health Resident Journalism Advisor at Internews in Kenya said Internews was interested in untold stories. "That's why we are working with participants in this training to help them tell their own stories, so that the rights of the lesbian, gay bisexual, transgender and, intersex persons can be respected". The new website will also be a story source for journalists in Kenya.