"This is 3D radio"

Praise for Kenyan journalist Stanley Ongwae, winner of the Commonwealth Broadcasting Association's One World Media Award for "the Best Programme produced in a Developing Country"
At the Internews office in Nairobi, Stanley Ongwae fidgeted restlessly like a child who was keeping a big secret. He had just received news that his story on maternal mortality had won a Commonwealth Broadcasting Association Award. Even for a journalist who had previously won an award, the news was a little overwhelming.
"I am very much happy about the award," he said, "a Commonwealth Award!"
That meant that his radio story had competed against stories by journalists from 53 countries around the world.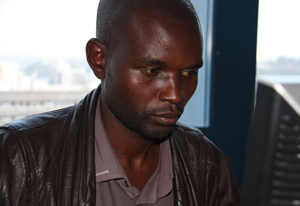 Ongwae at the Write Spot, Internews
Ongwae, who works as a freelance journalist attributes his success to an Internews workshop on reproductive health he attended last year.
The required piece he produced focused on maternal mortality rates in Nyanza. He found that complications during and after pregnancy that were not attended to led to many mothers dying unnecessarily.
The story affected Ongwae at a personal level; high maternal mortality rates had affected many women in his village.
He submitted this story to the Commonwealth Broadcasting award's One World Media category - and won.The judges said Ongwae's story on maternal mortality "was a highly creative, innovative programme, with excellent use of available resources."
"This is 3D radio," the judge remarked.
Ongwae says the award will make him aim even higher with the stories he writes.