We worked with local residents and Google to make the first interactive map of Kenya's largest slum.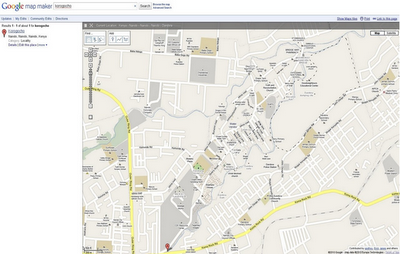 At Google we want to make the world's information more accessible and useful to people all over the globe. This includes providing rich local geographic data because a high percentage of search queries have a geographic component. We have often spoken about Google Map Maker, a tool that allows people to help create a map by adding or editing features such as roads, businesses, parks, schools and more.

We are ever grateful to Kenya's active online cartographers who have helped us build our maps from the ground up. Maps are valuable for users, governments, NGOs, universities and entrepreneurs alike, who can visualise, plan and market the areas and projects that they work on. The mapping session we held recently with 21 volunteers in Korogocho, one of the largest slum neighbourhoods in Nairobi, is one such example of cartographers literally putting their community on the map. We joined forces with Internews and a group of inspiring volunteers from the Korogocho community to build their very own maps.
We only had two and a half days to achieve this task but the group was up to the challenge! After 2 hours of hands-on training on the mapping tools, we embarked on mapping Korogocho and, thanks to the amazing hardworking volunteers from the area, they have now added all sorts of rich information about Korogocho on Google Maps (Map Maker). See below for 'before' and 'after'!

During this productive mapping exercise, the group mapped social and health infrastructure that is important to their community, including water vendors, public toilets, bio-gas projects, schools, Adopt-a-Light locations and more.

This is the beginning of bigger things that Internews has in store for the area, and we are grateful that they approached us to help them take that first step towards an impressive new map of an important part of Nairobi. We are pleased to continually improve our maps functionality for Africa, and helping to make Africa's information readily available.